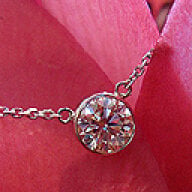 Joined

Oct 30, 2002
Messages

31,003
Burk and Steph here's our thread...!! And anyone else who is post-preggo (no limit on what POST means!) and wants to join!

I'll start...I had our baby boy 9 weeks ago and I still have 15 lbs to lose. I gained a total of 36, have lost 21 which basically happened in the first 2 weeks post-pregnancy without any help from me. Since week 3, I have not lost one lb on the scale...BUT my body is changing as since then my belly has gone from looking like 4-5 months preggo to being 'almost' flat again (though softer). I am BF'ing and since I feel like I am prob not eating enough I almost wonder if my body is hanging onto the extra lbs to make sure I can feed the kid.

Anyway I started working out at week 4, just non-impact stuff til about week 5.5. Now I do cardio 2-3x a week but wish I could go more...it's hard to find the time with schedules since I can't just jet off to a class now that we have the baby!

Let's talk hips...mine totally spread. I think it was either the last days of pregnancy or during birth or both but they are def significantly wider than before. NONE of my old pants fit me, not even larger ones that I wore when I had 10 lbs extra on me. I purchased a pair of cheapo AE jeans a week ago. When I had them on in the store I could barely get them on and today they went on pretty easily, sooo I think the hips are starting to retract. Yay for small victories.

For me, I am working on hips and butt and belly. We're going to Hawaii in 3.5 weeks soooo I've gotta wear a bathing suit. I'm thinking ONE PIECE!!

I just went to a UJam class tonite, which is the new thing here...one of our fave instructors who did Zumba choreography branched off and started her own thing. It's like a combo of latin and hip hop but more hip hop. Like Zumba it burns a ton of calories...! So I am hoping it's working it's magic.

Hope to see other post preggos wanting to reclaim their body or make it even better than before chime in!