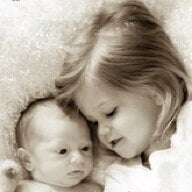 Joined

May 9, 2006
Messages

4,096
Hey there everyone! I have had absolutely NO time to workout the past week. We are moving next Friday and my husband has had business trips so packing, lining up carpet cleaning, moving company, ect has taken up all my time......and then there''s the 2 kids!

On the food front, though, I''ve had to change my diet again because K has reacted horribly to me adding the corn and dairy back in (even though I did it slowly and didn''t even add the "big" ones like milk). The doctor thinks he may be intolerant to something other than those two so I am trying to cut out soy as well. So, no fast food really because I can''t count on there being no corn syrup or soy. I''ve been eating even more fruit than usual which is good. Such a PITA.
Sounds like so many of you are doing so well. I am hoping I''ll be able to get back to working out regularly soon!