Joined

Jun 10, 2013
Messages

373
Hello everyone, this is my first time posting in "Rockytalky" and calling out for some help. Pardon me if it seems like a rather trivial issue altogether and thank you in advance for your kind suggestions!
I received my engagement ring years ago but looking at its imperfections today still drive me crazy. Back then, finances were a little tighter so husband and I made a compromise on the ring setting by sending it to a local jeweler at a budget. But I could never quite get over its flaws till this very day. For me, the biggest issue with the ring was how the scrolls were so poorly soldered (it's handmade and somehow, the jeweler couldn't get it to look very refined) that there were holes between the scrolls and the shank. Secondly, the scrolls appeared very lopsided and unequal. Other little bothersome details also included how the shank was actually thicker than what I hope for and I'm wondering if smaller melee diamonds would help somehow.
Anyway, fast forward a year later, the jeweler had done her best to repair the "holes" but the lopsided scrolls still bother me a lot. I could have gotten an entire remake but I feel very sentimental about the ring - after all, it's the original engagement ring I was proposed to with. So I am exploring all possible options, before concluding on a remake as my final resort. I want to be able to pass on a quality piece to my children, yet I'm torn between perfection and keeping a significant item intact and original.
So, do you think the lopsided look is due to the scrolls being truly imbalanced or is it because the prongs are poorly-made and decentralized? Therefore, would remaking a prong head help? I'm completely confused myself because the scrolls seemed balanced from some angles, but totally off in others. I even tried measuring the length of the scrolls and the position of the prong head, but I can't really judge. Here are some photos of it.
The scrolls look fine from this side (I don't have a better photo of "this side" but I hope this one is clear enough):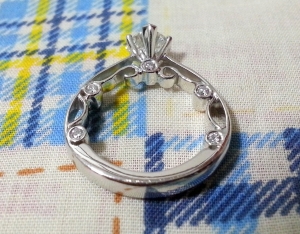 But looks terribly imbalanced from this other side though: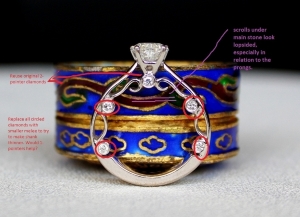 As mentioned, the shank also seems too thick to me from the top and it makes the stone look smaller. I sounded out my jeweler on shaving off more gold and tapering it some more, but she was reluctant and felt that the ring would be damaged in the process. What do you think? I can try to live with this but I'd like to hear your imput: