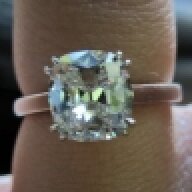 Joined

Sep 15, 2008
Messages

148
Hello all! I''ve been lurking for several months now, learning as much as I can about diamonds and settings. I have been dating my wonderful boyfriend for 5 years now, and have talked about getting engaged most of those 5 years! I am extremely picky and change my mind easily, so he''s let me help out in finding the stone and setting I want.

As with many of you, I am completely mesmerized by chunky cushion brilliant solitaires with double claw prongs!!! (ala boston_jeff and pixley!!!) I have been in contact with many jewelers, and all are having trouble locating a stone for me in my goal size range of 1.5, and our budget (we''re both teachers!)

So, as many have advised, I contacted Mark a few weeks ago, feeling confident that he would be the one to find our stone. He did find one pretty nice one, and we arranged to go look at it in person to decide. However, a week before we were supposed to go look at it, it was sold over the website! I was pretty discouraged and irritated, since we did plan to come see it. Regardless, I know Mark is the best, so I am still in contact with him in hopes of finding a stone.

However, a jeweler in Pittsburgh (boyfriend''s hometown) has found a really great potential for us! It''s a 1.53, H, SI1 cushion brilliant. It''s from a guy that specializes in antique cuts in CA. I don''t know if it is an actual antique or not. The measurements are 7.41 x 6.83 x 3.97mm, and it''s GIA certified. Unfortunately that''s all I know, and the jeweler knows as of now, because it is in some show in CA this week. We''re hoping to get it shipped in this coming week to take a look at it. Any opinions would be great, and I know that I can trust any of the feedback you can give!

Thanks so much!