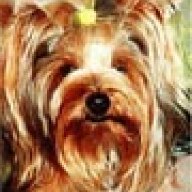 Joined

Jan 29, 2009
Messages

124
Did anybody else see this article in the paper today? Love the part about the tattoo on the finger. And clarity enhanced diamonds are a great deal!! Who knew?

"Popping question doesn't have to break bank

By MEGAN K. SCOTT
Associated Press Writer

Published: Wednesday, February 8, 2009

Don't despair if two months' salary won't buy your sweetie that diamond solitaire she's been eyeing. Here are some engagement ring trends that won't break the budget.

CHOOSE AN ALTERNATIVE METAL

Platinum has certainly come down in price, but palladium and white gold are much cheaper.

Palladium costs 75 percent less and white gold is 45 percent less than platinum, said Summer Krecke, deputy editor of WeddingChannel.com.

"If you are wearing the ring, no one's going to be able to tell the difference," she said.

CONSIDER ONE RING

Many women are choosing a ring that can serve as an engagement ring and wedding ring, regardless of budget constraints, said Harry Glinberg, a graduate jeweler gemologist in Wauwatosa, Wisc.

"Initially it's going to cost you more because you're paying for more," said Krecke. "You're really saving money in the end."

If you insist on a separate wedding band, consider purchasing everything from one store, said Denise O'Donoghue, jewelry director for Brides. Purchasing an engagement ring and two wedding bands from one place may get you a better deal, she said.

CONSIDER A CLARITY ENHANCED DIAMOND

There's no such thing as a completely flawless diamond, but a clarity-enhanced diamond is 50 to 60 percent cheaper than a natural, nice looking diamond, said Glinberg. On a clarity-enhanced diamond, the fractures or inclusions are filled.

Make sure a graduate gemologist looks at whatever diamond you are purchasing, says Glinberg. Unfortunately, not all jewelers are honest and they may try to pass a clarity-enhanced diamond as natural.

UPGRADE LATER

If you're really short on funds, purchase a cubic zirconia ring and upgrade later, said Glinberg. He advises against Mossainite, a mineral that looks similar to a diamond.

"It's less expensive than a natural diamond but still pricey for a fake diamond," he said.

He said it's better to wait and spend money on the real thing.

GO FOR A COLORED STONE

Spend 10 percent of the cost of a diamond and purchase a colored stone, such as a ruby, emerald or sapphire, said Glinberg.

Princess Diana chose an oval blue sapphire engagement ring, though hers was surrounded with 14 small diamonds. (It also was 18 carats.)

"They have that sparkle," said Krecke about colored stones. "If you're looking at yellow sapphires, it looks like a canary diamond."

CONSIDER NONTRADITIONAL DIAMONDS

Krecke said she has seen a lot of brides opting for halo diamond engagement rings, with small diamonds circling a larger stone.

"It's more cost-efficient. It's timeless and it's still just as beautiful," she said.

She said raw or uncut diamonds are a great option for an individualist. A small rough cut diamond ring costs as little as $600, she said.

"They have this really beautiful brown tone, that ranges from champagne to light cognac," she said. "It really falls under this whole organic trend we're seeing."

GO FOR A SMALLER CARAT

There are some brides who won't be happy unless a ring is one or two carats, said Krecke. But even a slightly smaller carat can save you money at the register.

Purchasing a .90-carat diamond over a 1-carat diamond can save you $1,000, she said.

"And who's going to know the difference other than your jeweler?"

GO FOR THE SENTIMENT

Cynthia Sliwa, co-author of "Jewelry Savvy: What Every Jewelry Wearer Should Know," said she has heard of couples going with something other than a ring, such as a bracelet or necklace. There is usually a rational sentiment behind it.

The downside with a necklace is the wearer can't actually see it, adds Sliwa.

Some couples find a beautiful antique ring or use a ring that has been passed down through the family.

"It could be just about anything," she said. "What's important is the sentiment behind it."

TATTOO THE RING ON

A tattooed wedding ring is definitely a cheaper option, said Krecke, listing several celebrities who have done it.

"This is really for the couple that bucks tradition and is looking for a way to solidify commitment," she said.

But she said a tattooed rings can be problematic. You can't take it off like a wedding ring. It can take a long time to heal, especially if you use your hands a lot, and it may be frowned upon in a professional working environment, she said."