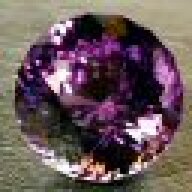 Joined

Feb 12, 2009
Messages

427
I have been deliberating for the past few weeks as to which of these two I want for my e-ring setting. I love them both, but for different reasons. Unfortunately, everything that one has, the other doesn't.

My stone will be a .75ct-.85ct asscher.

A. I love the thin shank look, but also love how tapered shanks can make smaller diamonds just POP and appear larger.

B. I love pave, and the BlueNile setting has great reviews, but should I trust BlueNile with pave? What I mean by that, is that BlueNile ain't no Leon Mege. Am I safer with the common prong?

If anyone has either of these settings, PLEASE post pictures!
What do you guys think!? Pictures below.