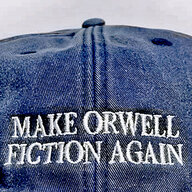 Joined

Apr 30, 2005
Messages

31,770
A question for people who feel strongly about the 'rules'.. Who makes you read the poltical threads? I don't read about Pearls because I have zero interest in pearls, I don't like some of the diamond cuts people post, I just skim and move on.. no one was dragged into a thread, those who come in are people who want to discuss, those who find the diamonds etc and SMTB etc should move on by.. who is dragging people in?
Politics matter.
It affects everything.
That's why it interest me, and I read and post (a relatively small amount) on some of those threads.
What does that have to do with following rules you agreed to follow?