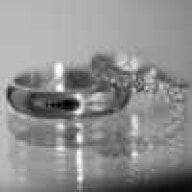 Joined

Mar 18, 2008
Messages

909
let me preface this by saying that I never buy myself anything... when it comes to clothes or jewelry, as much as I love them, the only ones I get are the ones my mom buys for me. I don''t spend money on myself alone--if my FI and I buy anything, it''s usually something that FI really wants, and even that comes maybe once a year (if that).

anyway, I have a phone that I HATE and that has been falling apart for the past 6 months or so. it is still barely usable, so I''ve been holding onto it. I can''t talk on it for more than 10 minutes at a time before it dies.

when I first got hired at my job, I was promised a Blackberry (along with many other things, including a raise in December--none of which I got), so I was sort of holding out for that. but now, it''s clear I''m not getting it.

I''m having trouble making ends meet (as are many of us these days), and I am lucky to have a job, as is FI. I don''t know how long that will last. I have tremendous student loan payments that are going up next month, so I can''t afford another expense.

so, knowing all this, WHYYYYY do I keep pining over getting the free blackberry they''re offering on Verizon when I KNOOOOW I can''t/shouldn''t spend the extra $45+ a month for data charges??? what is wrong with me?

I''ve literally been wishing for this since May, when I promised myself I''d buy myself a bberry when I finished the bar in July...once I finished taking the bar, and I couldn''t justify the expense, I told myself I''d buy it for myself once I got a job...and then I promised I''d buy it for myself once I passed the bar...but obviously I haven''t, and I''ve never treated myself to something like this (nor have I gotten myself anything, no matter how small, even though I feel I''ve accomplished a lot in the past year or so)...but in this economy, I DEFINITELY shouldn''t be committing myself to more payments....

ugh, so I am asking you, the wonderful and brutal PS community--TELL ME TO KNOCK IT OFF!!!!! This isn''t a piece of jewelry we''re talking about--it''s not something that''s uber expensive, or something I''ll have for the rest of my life (and I''m not even an electronics girl!)...just tell me to get over it already, GEEZ!