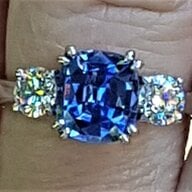 Joined

Apr 5, 2012
Messages

977
I have these two rose gold bangles which I love. They are completely round and not hinged, therefore really easy to wear. They are exactly the same diameter so they sit well next to each other.
But sometimes if I am wearing a white gold diamond ring on the same hand and want to break up the rose gold a bit, or am just needing some extra sparkle I feel like they need something else to go with them. So I was thinking of getting a slim diamond bangle (completely round not oval) to stack next to them. Maybe like the Tiffany metro:
But I'm not sure whether to go for rose gold, or white gold, and whether to go for diamonds all round, or some kind of design with fewer diamonds evenly spaced around. Or a bracelet (with some diamonds
).
So it would be great to see pics of your diamond bangles and how you stack them, or of other gold bangles with other bracelets stacked together.