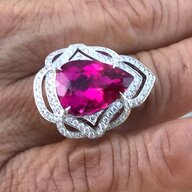 Joined

Dec 26, 2017
Messages

1,122
To be honest I usually dont enjoy the more blingy necklaces (large-bright gold-diamonds galore) but there is something that is just so gorgeously elegant that makes this lovely bunch of golden grapes look oh so classy!
Its truly a stunning piece and I would never sell it as it's simultaneously a classic yet unique piece which is hard to come by.
Thank you, and yes I very much agree. DW also prefers to keep things simple, and more contemporary in design. There's just something about this piece that made us both gasp when she first put it on.
I had negotiated a price the previous day when we first saw it for sale as a brooch. When we went back the next day with a matching yellow gold chain and DW put it on as a pendant, I made the sales lady write up the sale before she took it off. DW was already drawing a crowd of admiring ladies!