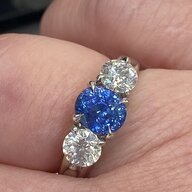 Joined

Feb 29, 2012
Messages

11,127
Thanks in advance.
I want to upgrade my .50 ctw studs (bought about 9 years ago from an online store Mondera); I will be keeping these studs and not trading in.
I have small ears and ear lobes. The .25 looks just fine. The .37 looks good. The .75 is complete overkill on my lobes. So I definitely do not need over 1.40 ctw studs.
This leads me to believe somewhere around 1 ctw is my sweet spot. I don't want to go below an I color. (I'm finding I'm a tad color sensitive)
For a .50, I want to hit a 5.2 mm, Is that correct?
I don't need a good trade up policy: if I trade up, I'll probably still keep this new pair and have a selection of studs. I'm an established
Blue Nile
customer and they are my first choice strictly because of inventory amount and the good luck I have had with them.
I'm ok I think with fluro for earrings. I was wanting to wait until February to purchase, but if I see something that is just gorgeous, I can pull trigger now (trying to let the jewelry fire in the wallet burn out before I start up again).
Do I want/need superideal/a cut above/hearts and arrows for studs? What is the difference for the diamond between martini settings and baskets? ( I think I want martini). Will platinum be too heavy? I don't have an earring hole problem, and I'd like to keep it that way.
I'm also interested in Garry's shallow/spready experiment with studs.
I would like to stay under $2500.00 but could stretch, and I am also imterested in the $1600.00-2200.00 crop of studs.
I don't need anyone to go look for studs (I have about 15 pair on my wish list).... I'm really looking for input on what qualities you would want to hit if you were me. What numbers/qualities/values am I looking for?
Thanks in advance for any help you can give me. I welcome discussion from trade members too on what customers like for studs as well as what you choose for yourself and what you like to see on a customer's ears.
I really appreciate any comments!