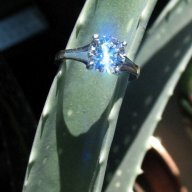 Joined

Apr 15, 2009
Messages

56
Pricescope, I am so upset. Let me preface all of this by saying that I will contact the vendor tomorrow but I have a splitting headache right now and wanted your input.
I found what I believed to be our perfect stone and put it on hold, and got some feedback from Pricescopers on it (all good). We went to see the stone on Saturday and it was beautiful. Here is the stone, which I will call 1.46:
1.46
. My only concern was that the AGS report was dated 2006. Jonathan told me that the stone could have been traded in and that he would check. (The Helium report is dated 2009.) I had seen a few other stones on the website, including the one that I will call 1.463:
1.463
. When I asked about that, Jonathan said that it must be the same stone, because he didn''t believe he had 2 stones in that size range. He checked his stock and no 1.463, so he said that he had his people take that image off the website. The length, width and depth in millimeters of both stones are identical, but the other numbers are not. The HCA numbers are also different (1.5 for 1.46, 2.1 for 1.463). I also told him that the Brilliantscope/Gemex for 1.46 listed different width/length/depth #s than all the other stats for that stone, but he told me not to go by that.
Today I looked again at the AGS report for 1.46 and realized that it listed the carat weight at 1.463. That caused me some concern, so I went back to the page for 1.463 and looked more closely.
Please look very carefully at the magnified images. It is the same stone -- the inclusions are identical. However, the hearts in particular don''t look as good for the 1.463 as for 1.46, there is an
Idealscope
image instead of a Brilliantscope/Gemex, and there is no ASET for the 1.463. 1.463 also does not show a certificate. The stats indicate that the stone is AGS certified but the blurb up top shows that there''s a GIA cert that''s not posted (which is odd, as
GOG
''s reputation is that they provide all the info they have). The Helium report for 1.463 is dated 2006, just like the AGS cert for 1.46. Most disturbing to me is that 1.463 comes with the 30-day guarantee and not the lifetime guarantee that 1.46 has.
Can someone explain why the hearts would look different and the table and depth percentages and crown and pavilion angles would be different, but the photo would show the exact same inclusions? Why would
GOG
not post a cert, and why would the guarantee not be as good? When you view the link for 1.463, it says it''s on hold. I''m assuming that we''re the ones that have it on hold, but maybe not, so perhaps when we go back on Saturday the stone will have been sold? Is it that the stone was a trade-in and the data posted for 1.46 is the info from before the sale, and now the stone has been marred in some way?
I am really heartbroken. I will be in a meeting all day tomorrow so I don''t know when I''ll be able to reach Jonathan but I will try as often as I can. I really appreciate you reading this and your honest thoughts. Thank you.