Hello everyone,
I need your help and input on a diamond I found on
James Allen
.
1.72 Carat I VVS2 7.63x 7.67x 4.77 mm
(please see the GIA report attached along with the
James Allen
link).
8309144 - This True Hearts<sup>TM</sup> diamond, 1.72 Carat I Color VVS2 Clarity has ideal proportions and a diamond grading report from GIA
www.jamesallen.com
I have done my best to "research" diamonds along with my boyfriend and we are both feeling very overwhelmed and everything looks the same at this point.
I am looking to have this set on the 6 prong knife edge solitaire setting (equivalent to Tiffany setting).
If this diamond is not "ideal" for the price... does anyone have any other recommendations on a great diamond around the price point (13-14k) and in the carat range? I can do 1.5-1.7 ( I can even do 1.3 carats). Going lower in the price point would be awesome too... but I would like to sparkle as much as it can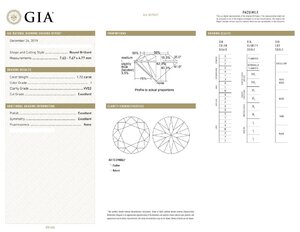 Thank you so much for your help!