Joined

Aug 18, 2009
Messages

38
i've been researching diamonds for way too long and i'm tired. we need to just pick a stone finally, and with prices continually rising, it's putting the pressure on.
here are two stones i have had a chance to see in person, although both not in the same location and in two TOTALLY different types of lighting. i am not sure if one is going to be a better buy or not. here are the specs:
stone one: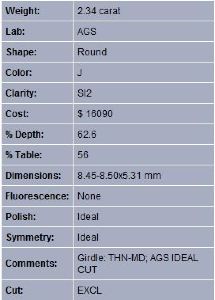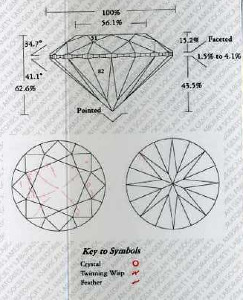 stone two: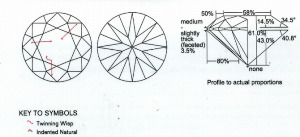 one is AGS, one is GIA. i fell in love with a different, larger stone, but BF is saying no
so i decided to come back down and go with one of these. would you guys say one is better than the other? i looked at the GIA stone through the
idealscope
and light tests and it is qualified as being hearts and arrows and is beautifully cut. i know the difference is going to be so small in size, but i would like it to face up as large as it possibly can, but if the light performance of the smaller one is going to actually cause the illusion of it to look larger than the 2.34 ct, i'd pick that.
someone help?! both stones are eye clean. i just couldn't tell a color difference because they were in two locations in two different lighting conditions. i could not see the stones side by side, but i CAN get the vendor i am going through to bring them both in to compare to tell me what he thinks. the AGS stone is $220 more than the GIA stone, and i'm wondering why. is it because of the carat weight or the cut being graded as ideal by AGS? i'd just like to finally pick something by this wednesday. any help is appreciated!!!