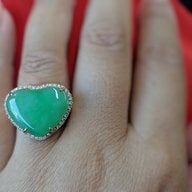 Joined

May 17, 2014
Messages

4,549
Hallo!!!

I'm hoping one of you bargain hunters can help me find a cheap and cheerful vendor where I can buy a read garnet for my DS.

He's obsessed with wanting one and I'd love to get it as a present for him. I have no idea what the going price for red garnets is so any help would be great.

It doesn't have to look fabulous. He understands that it likely will be really dark!

I've offered him a lovely pink spinel for his collection but..... nope! Wants a red garnet!