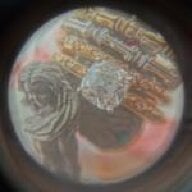 Joined

May 19, 2014
Messages

1,322
Well thanks for clicking... please forgive my inexperience and slightly whiny tone- I am feeling frustrated and I'm embarrassed. I feel like the village idiot in the colored stone world, happily bumbling around and enjoying all the 'pretties'.
In my bumbling I purchased a peach/salmon spinel, as I wear that color a lot. Well, I LOVED it! It reminds me of hot summers and pretty flowers, and I kept envisioning it in one of Yvonne Raley's sunflower rings.... the short version of this tale is I purchased a peachy/salmon oval from Yvonne that is even prettier than the one I bought originally with the intent of putting it in her sunflower ring. I was so happy and excited!
Well, in the nicest possible way, she has gently suggested other color for the sidestones/petals than what I envisioned. I envisioned chrysoberyl/yellow-green sapphire, or even fushia (African ruby?) She has suggested teal/green sapphire or color change garnet. I believe she knows what will look best. (here comes the whiny part- forgive me!)I am just sad because I have not met those colors (as sidestones) that make me happy and want to have them on my ring. That Paraiba blue melee on sparkliesluver ring is fall down gorgeous... I don't know if Yvonne can get that again or if that would work?
Any inspiration? Photos? I for sure want color, not diamonds.
I am planning to set my original peach 'roval' in a milgrained e/w bezel with matte/brushed green gold. Considered making it a sunflower pendant in this set but I like looking at it so much, I thought I'd enjoy it far better as a nice casual interesting ring. It's 7.1 by 6.4 with a lovely puffy crown.
My peach oval from Yvonne is around 7x5? and has a nicer cut and color and clarity than my original. To me. My daughter thinks they look exactly the same.
I was planning on making the sunflower ring in 18carat rosegold to match my wedding set. I was unsure of the rg with the peachy (does it make the stone look more brown?) but I think it has grown on me enough to be happy with that.
So, please, advice, inspiration- do I need to stop this project while I can still return Yvonne's oval? Do I need to just trust Yvonne and tell her to use whatever she thinks looks best? Sit tight and wait until a magic melee comes along (lol)?
I will attach a pic of the 'oval sunflower ring' from Yvonne's website, and, make another post from my phone with pics of my gems. I just can't type on my phone, which has my pics.
Thanks for your help. ~L