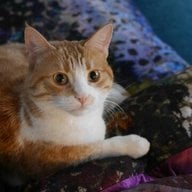 Joined

Oct 18, 2015
Messages

503
Please help me decide if these are matched enough for studs. I have been wanting small studs for my second piercing and these are a good size for me.
I bought some small .25 (each) studs on ebay for pretty cheap, but still for more than 500 dollars. it was a late night impulse buy. I then looked at the photos on a pc instead of a small iphone and saw that the pair were actually just mirror images of one stone, hence why I thought ' wow they're perfectly matched!' duh.
I quickly emailed and asked to cancel. The vendor was great, siad sure but that he would fiy the issue and take other photos. He also took them to his friend who is a broker and got an opinion that yes they are a match, but my excessive questions about carbon spots, girdle chips, culets, facet patterns, table size and crown height has scared him off. He wants to refund me as the cost of a return is too much for both of us to absorb, as I live overseas and they use the dreaded GSP, where I have NEVER gotten my customs money back no matter how many hours I spend trying to contact Pitney fricking bowes ( the company that handles ebays GSP).
Can people tell me if it's worth the gamble ( as in I keep them no matter what) for the price, or point out that they in fact are not a match at all. My brain and my eyes are not working properly and these are now starting to look like MRBs... I've been staring at the screen too long. Below is the initial listing image, and some extra ones sent by the vendor. I have increased the contrast to try to see the facets better.
I hope I manage to attach the photos.
listed as I VS1, so willing to accept that they may be K SI
any input, however harsh, will be greatly appreciated, thanks!