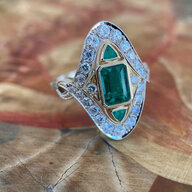 Joined

Aug 4, 2020
Messages

119
Hello! I could use some help buying my first pair of real diamond stud earrings. I have been reading enough here to know that I know nothing! Is there an existing thread that can point me to what I need to know for my first diamond stud purchase?
We just got our refund check from DIsney for our annual passes (covid) so I have about $1,000 to spend. I have 4 tiny kids so I want studs for everyday wear - so they cant pull them out!
The most important things to me are sparkle and I would love something thats at least 4mm for ear "coverage." I know that clarity is not as important in diamond studs and color maybe also less important if you have a great cut?
What are the top 2 things I need to know? And then where should I be shopping?
White Flash
might not be in the budget?
Brian Gavin
?
James Allen
? I think I may be able to upgrade in a few years, so a place that has a trade in/upgrade option would be good.
THANK YOU for taking the time to educator me or point me to a pre-existing thread!