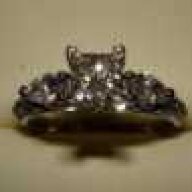 Joined

Jan 24, 2009
Messages

74
Date:

4/4/2009 12:41:13 PM

Author:

Lorelei

Date:

4/4/2009 12:30:47 PM

Author:

JasonFaber

Date:

4/1/2009 3:09:59 PM

Author:

dazedandconfused09

Been lurking for a while now and I hope you folks can help me...



http://www.whiteflash.com/princess/Princess-cut-diamond-50959.htm

The G color is turning me off a bit, but it''s probably because I have too high of a standard set in my head and lack of experience with diamonds. I know G is not ''colorless'', but is this ''colorless'' to the naked eye? I will have this set in platinum 3 sided pave setting.

Thanks in advance!

Not a bad Princess cut. There are obviously ones out there with better images, but you will be paying even more for them.

Jason, dazedandconfused isn''t buying this diamond in case that is what you are thinking, he has selected a different one.
Ah, sorry I didn''t see that post.....VERY nice! Not sure if you can get much better then that.