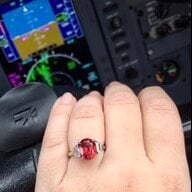 Joined

Jun 5, 2011
Messages

1,298
Per request by DiamondSeeker2006 and Missy a quick thread on my favorite studs.
This summer I was pretty upset when I lost a stud while training to scuba dive. My own fault, but still. Grrr. Anyway I thought about replacing one of the earrings because they were purchased as a reward for taking a big step career wise. In the end I decided to reset the remaining stone into a five stone diamond and ruby ring and purchase a new pair of studs. I know one of our fellow Pricescopers in real life, Virgina, and she had purchased from
James Allen
in the past and had a good experience.
After much thought and internal debate I decided I was okay with going for a lower color and clarity in studs than I would be for an engagement ring. To be honest I do not see the tint once my earrings are on. Both stones scored well on the HCA and after confirming that the folks at
JA
thought they would make a good match I placed my order.
One of the things I quite like about my new studs from
JA
vs my old ones from
BGD
is the setting. One of the three wires making up the basket is tilted upward to make sure that studs of this size don't drop down in your ear.
Diamond Studs TCW 4.52
Platinum Martini Setting
Stone One:
SHAPE: Round
CARAT WEIGHT: 2.20
COLOR: K
CLARITY: SI2
CUT: Excellent
POLISH: Excellent
SYMMETRY: Excellent
FLUORESCENCE: None
L/W/D (MM): 8.32*8.37*5.12
Stone Two:
SHAPE: Round
CARAT WEIGHT: 2.32
COLOR: K
CLARITY: SI2
CUT: Excellent
POLISH: Excellent
SYMMETRY: Excellent
FLUORESCENCE: None
L/W/D (MM): 8.47*8.49*5.20
SETTING STYLE: