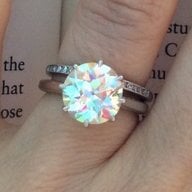 Joined

Dec 14, 2009
Messages

2,037
My mother recently got some platinum and diamond dangle earrings. They are newly made with a vintage vibe. I haven't seen an earring back like this before. I know how many PSer's are on the quest for the perfect earring back so of course I had to share.
The little metal disc looks like it will help keep the earrings from falling forward. She will pick them up next week and hopefully find them comfortable.
In addition, my CvB Elsa got some new friends over the past few months. The bottom band is a platinum and single cut diamond full eternity band that was fairly inexpensive at a local antique jewelry shop. It has the original owners' initials and wedding date of 9-4-28. Love how romantic that is. The next band is a CvB sapphire full eternity I found preloved. Thankful for LT and DB as I wouldn't have been able to afford this otherwise. The sapphires shift from blue to purple. It is a little large so I have to wear it with other bands. The next band is a platinum and diamond half eternity. In between the diamonds are little balls of platinum. I like it because it's not matchy-matchy with the others. On the downside, I had a local jeweler make it and it was over budget, late and not exactly what I asked for. I mostly wear the stackers all together but if I'm going for a simple look I just do the single cut band.