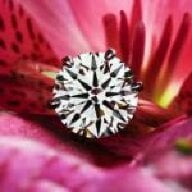 Joined

Jul 13, 2005
Messages

308
Good morning!
Several months ago, I went looking for a large sparkly "pink stone" to have a ring made from...so I contacted Jeff White to see what he may have, since I had often admired the stones that he posted on Facebook and the ones on his website. I had a specific desire for something in the 10mm range, as I want the stone to be the star.
He responded that he had a Pink Tourmaline, that should cut to a 9-10 square cushion that was from material that was mined back in the early 90s in Mozambique. That it was a lovely shade of pink and that the clarity was very good as well...Yes! sounded great to me! Let's do it! I asked him to take a "before" picture of the rough.
This morning I received a message and pictures! "The vitals are: 5.37 ct. and 10.07 mm! Color and clarity extremely good., It is essentially loupe-clean"
Now, I need help deciding how to set her! I can't wait to have her in person! The pictures look amazing, but we all know that it's what IRL that makes us really happy!
Here are pictures that he sent this morning, of the rough and the stone.