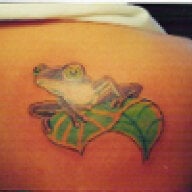 Joined

Dec 12, 2008
Messages

10,614
I got it a couple weeks ago. When I opened the box I immediately thought it looked like it was a little off, but figured it was just crooked in the box. When I took it out of the box my eyes went straight to the scrolls on the sides..one is lower than the other. I've been trying to wear it and see if I can live w/it but..I can't. It tilts my eyes so that the shank doesn't look round. The side w/the short prong barely looks like the prong is up on the stone at all, and the scroll is not straight on the shank. It is off the side of the shank just a smidge, which wouldn't be a big deal, but as the scroll comes up, it's pulled out and curved a little, like when you make ringlets w/a curling iron, so top down it makes the stone look crooked. I convoed Sally about it and she said it was just something that happens w/handmade work, and if I wanted to send it back they'd fix it. Which is fine, I would expect them to fix it but..I don't want to pay for shipping back and forth for something that really should've been caught before it was sent. I didn't ask about it when I convoed about the scroll, and she didn't say anything in her return message.
So. I don't know. I've been at a stand still for a while now b/c I'm not sure exactly how I want to proceed. The lotus is a gorgeous setting otherwise. However, I'm starting to wonder if it's too feminine and delicate for me. She did make the shank wider for me..I'm thinking it's 1.5mm instead of 1mm. (or 1.8, I can't remember but I think 1.5). I'd thought about having her rotate the head too if I sent it over, b/c the asscher kite set isn't for me I'm afraid..I keep trying to turn my hand to look at it head on. But, again, I'm torn what to do..I don't want to send it over and have her rotate the head and fix the scroll and then in a couple months decide it's still too delicate.
Anyway, I'll get some pictures going here..