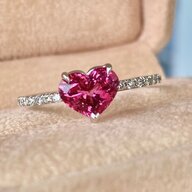 Joined

Feb 2, 2021
Messages

107
Aloha Everyone!
I am looking to "build" my first custom ring and have been addicted to this forum for all of the helpful information, recommendations, and awesome community. Fell in love with the ring here and am looking to do something very similar:
https://www.angara.com/p/claw-cushion-pink-tourmaline-and-diamond-solitaire-ring-sr1068ptd
However, after doing research I learned that tourmaline stones are not recommended for everyday wear (which I totally plan on!). Here are the main things I am looking at for my stone:
Shape: Oval/rectangle like the ring in the link
Sparkle: I need to ring to have a nice brilliance and be sparkly.
Minimal inclusions: I will be staring at this all day and it would really bug me.. lol.
Color: I like a lighter pink but open to brighter colors. Need something that leans more warm than cool.
And thats how I ended up looking at spinels... I've found a jeweler who can do the setting, but I am trying to settle on a stone. Two of my main questions:
Pricing: I've been looking at many of the websites/instagram/etsys on this site and am astonished at the price differences.... Some are a few thousand, and others a few hundred... I guess I just don't understand why. They all look to have great clarity and very slight inclusions.. Would love if you folks could check out my contenders and provide me with some feedback about the pricing. Yavorskyy seems like a very high end vendor, but I'm a little skeptical of the pricing. Also, when would I ask for a certification? Is that common for stones this size or mostly for bigger ones?
Quality: Aside from the pricing, is there one stone you would recommend over the others in my links below? I asking for more of a technical perspective rather than just how they look to the naked eye. Wondering if the videos reveal anything about the clarity or inclusions that I am missing as they all look great to me.
I would sincerely appreciate any help/feedback!