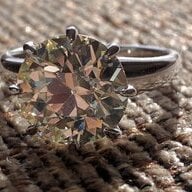 Joined

Apr 14, 2015
Messages

263
I'm looking to get a sapphire ring but cannot decide between pink and blue. I love this setting and looking to get 8~9mm sapphire to put in. The jeweler I worked with help finding some sapphires and sent these pictures. My questions for all CS experts:
1. Blue or pink? Personally, I like pink because its my daughter's birthstone and this ring is my mothers day present. But blue is traditional and classic, hard to decide.
2. Does this purplish pink sapphire look good in this setting?
3. I know it is hard to judge from the picture. But how does the cut look? It is un-certified. But the vendor agree to send it to GIA for grading if I would like to purchase it.