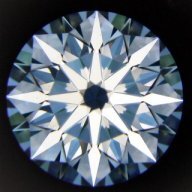 Joined

Mar 26, 2004
Messages

342
Well, I posted pictures of my fiancee's ring a little earlier today, and as I said, when I saw how awesome it looked, it motivated me to upgrade my college class ring. I had learned so much from this forum and after hearing so many positive reviews about the vendors here, I decided to do a little shopping around. I had needed to do some custom work on my ring, anyway, to have it resized so I could start wearing it again, so I decided to take the opportunity to change the stone and the setting, as well. It originally had a 0.5 carat sapphire set in a polaris white gold setting, but the sapphire was always a little too dark for my taste (either due to it's quality or it's cut, not sure), unless it was in very strong light (like the following picture with flash on.). I like the look of sapphires, and it's my birthstone, so I decided to keep some in the new setting. I wounded up purchasing an ideal cut H&A from DI and had it set in white gold, with eight 1.5mm sapphires from chatham around it. The specs on the diamond are as follows:

Carat: 0.614
Color: H
Clarity: VS2
Cert: AGS
Dimensions: 5.47x5.44x3.39
Depth: 62.1%
Table: 54%
Pavilion angle: 40.8 degrees
Crown angle: 34.9 degrees
Pavilion depth: 42.9%
Crown height: 16.0%
Girdle: 1.0% to 1.7%
Culet: pointed
Polish: ID
Symmetry: ID
Flour: none
Comments: Pinpoints are not shown
HCA: 1.6 TIC EX/EX/EX/VG

The following are a couple of pictures of the diamond itself, and then a before picture of the ring, followed by a few pictures after it was redone.