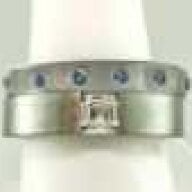 Joined

Mar 27, 2004
Messages

87
Date:

1/10/2007 11:48:19 AM

Author:

kenny

Date: 1/10/2007 11:35:35 AM
Author: asquareguy
Oh, the pic of the blues came in,

Love the blues.

They look the color of a moonlit sky!

Some day I may get into colored diamonds but there is so much to learn, and they are so $$$$.
Kenny,
They
are
expensive, and worse, hard to find
exactly
what you want. Or, in my case the quantity...
So, today I had PS up at work, showing the pics to pals, and my GM comes by and says "Oh, if you are interested in colored diamonds, I have a very good friend who is a diamond trader, specializing in colored diamonds". So where was my GM a few years ago, when I started looking for these ? ! Argh...

But that gives me ideas for future projects...

When they were here, I would get lost in them while looking through the loupe...now Bob at
WF
has them hostage, until I pay the ransom to get them wrapped in Platinum and safely returned to Daddy...