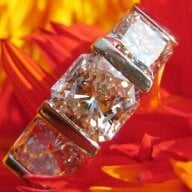 Joined

Feb 20, 2006
Messages

1,420
I'm a former PS poster, who has long ago retired into lurkdom. Life has occupied all my free time (kids graduating from college and moving away; MAJOR home remodel; work, work and more work!). So I lurk as much as I can, but don't have a lot of time to post anymore.
Anyway, I just recently got my rings polished and decided to have a photo shoot and I think I got some pretty good shots. So I thought to myself "who to share them with?" Answer. "Why, my fellow PSers, of course!
So for those that remember me (and my rings) this will be a trip down memory lane. For those that don't know me, then I hope you enjoy seeing my sparklies for the first time.

So quickly, here are the stats:
Wedding ring: 1.45ct, I color, VVS2, GIA Cert
RHR (10 year anniversary): Center 1.51ct, H, VS2; Sides 1.01, J,VS1 and 1.03 J, VS2 EGL-USA Cert. I wear it with matching half eternity rings.
My style is modern and I like the feel of a hefty ring. My rings are not the most popular style nowadays, but I know we all can appreciate a good diamond pic, right?
So, I hope you enjoy my pictures. I just wanted to share them with those that understand the time involved in getting that elusive "money" shot. It was fun spending time taking pictures of my rings in different environments, even if it only produced a handful of good pics, it was worth it.
I want to say hello to all my old friends

and also to the new!

Here are my pics, enjoy!