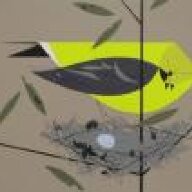 Joined

Aug 23, 2005
Messages

1,015
hi everyone!
well... i''ve been a very hit or miss poster, but i do read ps daily... and since it was ps that led me and my now FI to facets i thought i better post the bling shots.... or else
a little background...
we were friends for 7 years before our relationship changed from friends to BF/GF. i was dating a guy i thought was "the one", but too many ups and downs ..... he finally showed me that there was so much more to a relationship and that it could be great all of the time. we started dating officially in sept of 2002... moved in together in may of 2003... bought our first house together in 2004, got a dog ... fixed up the house, sold it ... bought our second house in may of this year (... still no ring :O .... i did doubt that it would happen ... but like good wine.. some things are better with age, and this next step in our relationship is no different. he''s 31 and i''m 29 ..... and it was perfect timing.
the proposal was very us.... my friends call me "julie the cruise director" so getting something past me, or plans that i don''t know about is a very difficult task... and he totally surprised me... we were at home on wednesday .... leaving late from where we live to go to my hometown for thanksgiving (trying to avoid some of the holiday traffic) it was in our living room, very low key and very sweet.
the weekend was great! we were able to celebrate with all of our friends and family (who were wayyy excited!!!) i didn''t want the weekend to end.
now.. for the ring.... i''ve flip flopped so many times on what i wanted.. it had to drive him nuts. i started with a halo, moved onto a three stone, to a solitaire, back to a halo, tension... you name it... i went shopping... he went shopping.... but when we went shopping together we finally found something very us. it''s simple, classic and super sparkly!!
with the help of ps i directed my bf to facets (hoping he would take the bait and he did!) i can''t say enough about the craftsmanship, or the diamonds …they diamonds are so white and full of life! i wouldn''t hesitate to recommend them to anyone! (on a side note… they appraised well over what he paid! well done ps and facets!)
so without making anyone wait any longer... here are some pics... i''ve already taken tem out for a little photo shoot.. hope you don''t mind all of the pics