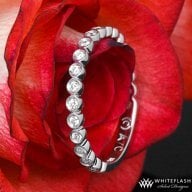 Joined

Nov 12, 2007
Messages

2,567
Hi all, it's been a long time since I've frequented the CS forum, but I have a question I'm hoping you all can help with.

My mom and sister share a birthstone: peridot. They both love it set in white metal vs. yellow metal. The problem is that that they have bought cheap sterling silver rings and when the peridot gets scratched and they want to replace the stone, it's hardly worth the metal work costs.

So I'm wondering if there are other gemstone options that are a similar pale green that they could use in place of peridot, that may hold up a bit better. I'm also thinking they could get simple white gold settings that would be easier for jewelers to work with.

I've looked at mint garnet and green sapphire, but not sure where would be a good source for these at a reasonable price.

I've already tried convincing them that peridot is not really a "daily wear" kind of stone, but without other options, I'm not very convincing.