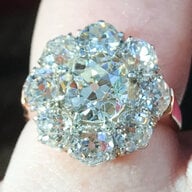 Joined

Nov 17, 2013
Messages

2,560
My first thread about my diamond, a 5.01ct GIA L/VS1 Early Round Brilliant:
https://www.pricescope.com/community/threads/my-5-01ct-gia-l-vs1-round-brilliant-diamond.195392/
We had weighed our priorities and had chosen a diamond that fit within our parameters. I loved my diamond loose. It had personality and moods, and I loved the color. Then, though my husband wanted to go with a solitaire, I thought I wanted something blingy. We had it set in a blingy ring with 72 1-pointers. My diamond's angles (1.6 on the HCA, but not within Pricescope ideal range) cause it to be a major reflector so it actually takes on the colors around it (in a pink room, it's pink; in a blue room, it's blue; in a room with a dark wooden ceiling, it's...). When I was outside in indirect light, my L diamond looked perfectly lovely with the melee, but inside the contrast bothered me. And the huge prongs drove me crazy!
After months of obsessing over the parts of my old setting that bothered me, I just did a reset! And I've named my diamond 'Penelope'. Actually, my 7-year-old came up with the name. Thank you, PSers, for your input along the way! I went back and forth about design options and metals/alloys. Missy and her ring convinced me to go with platinum, in an antique-style setting based on a ring I saw here:
https://www.pricescope.com/community/threads/introducing-my-new-lovely-3-5-oec.186508/
It is a rainy day here in upstate NY, and I'll probably take eleventy billion pictures in the coming months, but here are the initial photos of Penelope in the new setting. I am THRILLED with it, and I can't believe I waffled for so long! Now my diamond shines on its own, without any pesky little whiter melee upstaging it, and I love the personality again!