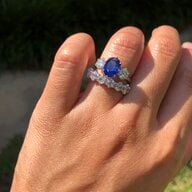 Joined

Feb 16, 2014
Messages

526
A year ago, I was initially wanting to get pearls from Takahashi but with the shipping and duties, it turned out to be a little more than I was willing to spend without a return policy.
Does anybody own any of these by PP?
I thought this was very interesting and reminded me of constellations. I think this is great with casual wear too. They are currently having a 15% sale and was wondering if I should wait for something better.
Write your name in the stars and your love in the sand with our new Luna and Terra Collection. New designs set to make a lasting impression. This necklace is crafted with seven silver-blue Akoya Pearls ranging in size from 6.5-8.5 mm on a 14k gold fine cable chain with lobster clasp closure.
www.pearlparadise.com
These caught my eye as well, but I'm gonna contact them and see if they are able to sell just the charms/ drops with a bigger jump ring.
The simple yet elegant design of the Unity Collection drop Tahitian pearl pendant will hang gracefully from your next and will stand out … radiating the beauty of a Tahitian pearl. The classic AAA drop pearl has a mesmerizing and excellent luster.
www.pearlparadise.com
Last edited: