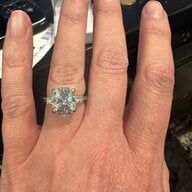 Joined

Nov 12, 2011
Messages

973
Ok, I have come to crunch time and am pulling the trigger today.... My problem is that I love both of these shapes. I am not used to step cuts as I have never owned one. I want to feel this upgrade (ten year anniversary) as this will be the second and final upgrade.
I have used that comparison website showing how the stones will look on my finger, without halo.
The pear is 10.23 x 7.39 x 4.42 mm
The emerald is 8.64 x 6.45 x 4.25 mm
I love that the pear is an antique and has history, I would likely have VC set this, which in itself will be amazing, proably the Emilya.
My local diamond merchant has the emerald so I would have that set locally.
I would halo the pear with half pointers and the emerald with one pointers. Given the different shapes Im unsure if the pear will look that much bigger than the emerald, or am I blind?
I will attach pictures of both stones.
I realise they are TOTALLY different but Im running a poll to help me!
For those who havnt seen the certs and would like to:
Pear GIA -
http://www.gia.edu/cs/Satellite?reportno=2171041543&childpagename=GIA%2FPage%2FReportCheck&pagename=GIA%2FDispatcher&c=Page&cid=1355954554547
Emerald GIA -
http://www.gia.edu/cs/Satellite?pagename=GST%2FDispatcher&childpagename=GIA%2FPage%2FReportCheck&c=Page&cid=1355954554547&reportno=7196932782
Will add emerald pics in reply as I cant add anymore!