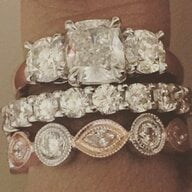 Joined

Jul 12, 2014
Messages

91
Congratulations on saving up to make your upgrade a reality! I know it takes sacrifice and there are so many trade-offs you need to make to stick to the goal.

This goes for diamonds and most purchases I make, I have the cash but I will purchase on the credit card for rewards points or cash back. My credit cards do not have annual fees.

I will take advantage of 0% interest periods for larger purchases, make the minimum payments and pay it off in full when the balance is due. I'd rather keep the cash in my savings account and invest it into stocks where I'll get a 3-6% dividend or return. The interest on GICs really low but I'll come out ahead.

I will finance with the company if it's 0% interest, it doesn't impact my credit rating and the account doesn't appear permanently on my credit report. This is not likely since it's like a department store credit card or loan. But worth asking the question before you apply.

I use Rakuten for additional cash back if it's available.
Rakuten is my first stop for every online purchase!