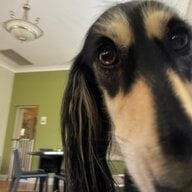 Joined

Jan 22, 2014
Messages

3,801
Many years ago, 2012 to be precise, at a Celebrity event there was a woman wearing THE necklace of my dreams. A totally over the top multi sparkler number. I saw the photos online / in magazines and went into overdrive. Despite my best sleuthing attempts I was unable to find out who the designer was and where I could buy one so I had to accept that it was probably a "one off" creation. Sad face. I then spent more time searching the Internet for something similar to no avail. The search for a Statement Crystal necklace, continued off and on for the next 7 years.
My Mums birthday looms and she really loves those Swarovski jewellery pieces. From experience I've found better prices and choice on line and in fact a bangle she would like is no longer "current" so it's my trusty eBay to the rescue.
Heavens, put Swarovski Crystal in the search field and it's like 22,000 results. Ugh. Switch to eBay.au
So I'm scrolling and scrolling and scrolling and
OMG
OMG
OMG
It's THE necklace. Seven years later but I recognized it in an instant. Not cheap, even as a pre loved item, I have nowhere to wear it but I hit that buy it now button anyway.
Oh, Mums present, oops, I'll get back to that once I calm down. Weeeeeeeeeeeee so excited.
This is the photo of celebrity wearing said necklace.