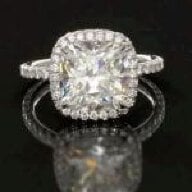 Joined

Jul 25, 2011
Messages

195
There has been some posts recently on PS regarding some designers using the cast process instead of completely hand forging. I have been trying to read old posts to understand the disadvantages of casting. It seems that porosity may lead to structural/durability issues for rings that are cast (I am not saying that casting does cause these problems, as I know many people of PS are very happy with rings that use the cast process! I have never had a ring made yet!) Has anyone experienced these problems?
It seems that some PSers are opting for "completely hand-forged" rings (ie. by VC) over LM or SK because they believe/have seen examples of
SOME
rings made by LM/SK that are partially cast. I've been looking at rings made by all 3 designers on PS and have seen each of their work in person and they all look amazing! I'm very new to PS and to the ring design process.
So I am just wondering what the reasons of getting a completely hand-forged ring vs a ring that is possibly partially cast ring. Is it mainly a durability/structural integrity issue? Do consumers want to know that they are only paying for a hand-made ring? Should rings that are partially cast be less expensive to make?
I know that some posts discussing this topic and specific designers have caused some debate on other posts. I don't mean to cause any further debate and have only mentioned specific designers b/c I've seen their work in person. I am looking to get a ring made and just wanted some more info on this!