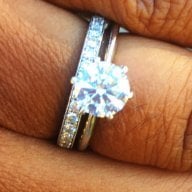 Joined

Mar 25, 2014
Messages

1,514
I am ordering a simple wedding band from David Klass and want to make sure that I am clear in expressing the revisions that I want in the CADs.
The width and height are fine. It will have engraving on the back and on the sides. I already sent him inspiration pics and he is fine with what I have selected.
Here is what I want to write to him:

I would like to use diamonds that are 1.6mm or higher instead of 1.4mm and still keep the width of the band at 2.5mm.

I have attached a couple of photos that you made last summer for Mrs-Blop (her PS ID) that she posted on Pricescope of her Asscher Eternity Band. I would like the walls of my ring to be as thin as they are in these pics.

Also, please note that I would like the band to be a loose 7, more like a 7 1/8 size.
Here are the questions that I have for you knowledgeable PS'ers:
Do you think that this will compromise the integrity of the band? This means that the "walls?" on the sides of the diamonds will be a bit more than .45mm on each side.
I love the thinness of the walls of the ring that DK made for Mrs-Blop. I am including a pic of her ring in my note to him.
The ring will be platinum.
Is there anything else that I should look at?
I appreciate your help!