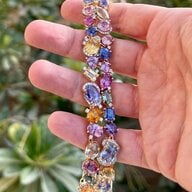 Joined

Oct 1, 2015
Messages

1,685
Someone suggested when I posted a pic in the sticky thread that I start one under here so am doing that.
Just brought home a bit of a special purchase.
Having got pretty sick of my various stock and bond investments inevitably tank I decided to invest in gemstones instead so I can actually enjoy my savings every day. This was a purchase with a legacy to remind me of my father who passed away this summer - and hopefully something I can keep for the long term.
my jeweller looked for a good while before he found a padparadscha within my budget which suited but I think he did a good job.
This stone has been gently heated but is without any other enhancement. At this size an unheated padparadscha of equivalent colour, clarity and cut would have been astronomically expensive so it was a compromise I was willing to make.
The stone is 6.04 carat, natural corundum certified as padparadscha variety in light orangey pink. It has been set in white gold with a rose gold "basket" underlying the stone to make the most of the colour of the sapphire. The setting has been designed to allow light into the sides whilst closing a slight window in the stone. Like most sapphires of this rare colour the cut was designed to maximise weight although it was by far the best of the ones I looked at without the common "fat belly". The stone also evidenced a smaller table than usual which offset the slight windowing and maximised brilliance.
The colour changes very markedly depending on the light. The best colour appears under incandescent lighting or at the end of the day where the pinkish highlights are picked up. Under flourescent lighting (which has bluish overtones) it appears much lighter, almost a peachy champagne colour.
For those interested the price per carat, prior to "friends and family" discount, was USD 4500. This was sourced direct from the cutter by a jeweller in the Middle East where I live so is free from tax and has minimal Intermediary mark up.