Hi everyone,
Please help give me your thoughts on the following diamond ring. The details on the IGI report are amazing but I have videos (I am sort of worried about the dark band and bowtie but I'm not sure if I am overthinking it because the jeweler says it is a beautiful oval). I would greatly appreciate your opinion!
Video 1:
https://streamable.com/3kw4ys
Video 2:
https://streamable.com/8yed7d
Video 3:
https://streamable.com/szdc9l
DETAILS
Oval
2.11 carats, F, VVS2
Polish and Symmetry - Excellent
Fluorescence - None
10.13 x 7.43 x 4.39
Table - 57.5
Depth - 59.1
Crown angle - 14.5
Pavilion angle - 41
Girdle - Med to slightly thick
IGI Certified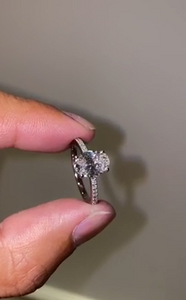 Thank you all in advance!