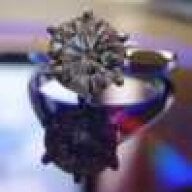 Joined

May 27, 2008
Messages

5,455
Hi everyone! I've been mostly lurking and admiring from afar since I had my son in January. I'm also still working so there's hardly any time to post, but I couldn't resist sharing some new goodies while the rest of the house sleeps.
1. I've always been a garnet fan and when I had a boy, my husband told me to find a nice green one. I actually left it up to him and he found this Tsavorite at gemfix. I got it on Mother's Day and set it into this halo setting from
James Allen
. It's pretty much one of the cheapest halo settings you can find, but it's always been more about the stone than the "jewelry" for me, and this gives it just enough extra dazzle to set it apart from the rest of my stuff.
2. I also got a blue asscher zircon from Jeff Davies. It's set so simply because I like to stack it with other shapes and colors. I showed it with an up-to-date photo of my current stack.
3. I've always liked the look of a peach sapphire or spinel (or a REALLY nice morganite) in a rose gold halo, but I lack the funds for all that. I took the poor man's route with an untreated peach zircon from Master Cut Gems in a 10kt rose gold Stuller setting, but honestly, I LOVE it. There's this beautiful warmth to it that I absolutely cannot catch on camera, and it even throws around some fire in the right lighting. The setting was made for a cabochon, but my jeweler made it work and it really brings out the color in the stone while giving it an antique-y look.
4. Lastly, I bought this pair of gray spinels from Jeff Davies on a whim... I didn't know what I'd think about gray gemstones, but I took a chance because they were so cheap and I'm seriously in love. They're so moody and shifty, but they look gorgeous in every light. Sometimes they're smoky and fiery, sometimes steely with lots of contrast, sometimes bright almost like white diamonds, and sometimes pink and/or violet. My camera couldn't capture the beauty, but you get the idea. My first thought was to find a pink or violet spinel and use these as side stones, but I love these so much I want them to be the focus. Plus, I'm afraid adding another color might take away from the shiftiness of these and I wouldn't want that. It's crazy how much enjoyment I'm getting from these considering how little they cost me. Any two stone setting ideas would be most appreciated; I don't think they'd look great in one if those standard bypass rings.
Anyway, thanks for looking, and thanks for giving me so many pretty things to look at through this past year as I sat feeding my new little guy! All of your lovely pieces kept up my healthy gemstone appetite!