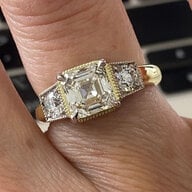 Joined

Jun 25, 2019
Messages

771
I put an order in last month with Vijay for a ring that I think (I hope...) will work with a mined marquise ring I have that badly needs something to make it look less dainty. I also figured I'd start with a small Ouros purchase and see how that went before committing to a bigger purchase
This ring is part of his standard range but I asked to have OECs put in instead of MRBs for 45 USD extra.
Anyway, I got sent a video of the completed ring tonight and it looks great. I am not sure how it'll fit with my marquise ring but I think I'll enjoy wearing it on its own too so I'll wing it. Will update once it arrives.
For now, very satisfied with the customer service and Vijay is great to work with.