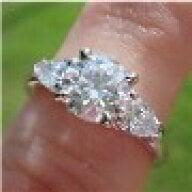 Joined

Dec 6, 2008
Messages

202
Hello everyone! I do not post often, but I have been lurking daily since October, and I am so glad to have found PS, and, more specifically,
Brian Gavin
Diamonds! My boyfriend and I had the opportunity to visit Brian last Friday and pick a diamond out of several options. We were a little gunshy about buying sight unseen, and traveling to Houston is an experience we will always fondly remember. Brian spent an entire afternoon with us, educating us and walking us through the whole process. I really cannot recommend him or Lesley enough, and feel very lucky to have found such expert craftsmanship at an affordable price. Our entire experience has been truly outstanding (thanks Maisie for pointing me in the right direction!).
Anyway, last Friday Brian showed us four diamonds, an I, two G''s, and an H, all eyeclean SI1''s. I will post pictures of all of them, but we ended up choosing the H, as it met all of our criteria.
I will also attach the CAD''s, and any opinions would be appreciated, as I have not yet visited with Lesley about them. I, however, think they are fabulous!
Additionally, my ring size is a 6. I hope you all enjoy the pics!