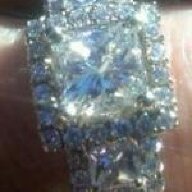 Joined

Aug 7, 2010
Messages

34
(This is a repost, I'll delete the story on the original post)
I've been married for 12 years to an amazing guy. We knew one another three weeks prior to becoming engaged and buying my engagment ring. (We were married four months later.) We purchased a beautiful setting with six princess cut stones all a .20 ct, three down each side and then room for a solitaire. . Well, we wanted to have children so we went with moissionite (my idea) and said we'd upgrade at five years after we were done having kids, five years later we dealt with infertility trying to have our second daughter and never even thought of a upgrading. At 10 years we kind of forgot about it as we were busy raising two daughters. Our girls are now 10 and 5. My sweet husband surprised me with a 1 ct princess cut diamond, SG1, H color. We talked about changing from yellow gold to white gold so he encouraged me to find a new setting. During all of this, we also upgraded his ring, I took three of my side stones and put them in a custom wedding band and the three stone represent me and our two girls. While we are not princesses, he treats us as if we were. I finally got my ring yesterday and we should be getting his this week.
We were working with a friend who is a wholesale and is associated with a jeweler and is very talented. We looked everywhere for something we both liked. My husband wanted something more than a thin band and didn't like the look of a split shank but wanted a halo. We found a Simon G ring we liked but it only came in a round halo. So, I went looking on the internet and found this setting with
www.since1910.com
. Buying a diamond over the internet was scary but Brad worked with me and I really love it. My local jeweler looked very closely at this ring and while he could have duplicated it, he couldn't do it for the same price. When he set the center stone (the ring was made around its dimensions), he said the craftsmanship was excellent.
The center stone: H color, SG1, 1 ct
Two G-H color, SI, princess cut stones tcw .46
206 round brilliant pave set stones H color, SG1 tcw 1.29
Size 4.75
Sorry if this is long winded. While it is not an engagement story, it is probably more special today that he "remembered" and it was a complete surprise.
Hoping I attach these photos correctly! They're not great but I couldn't get my canon to focus properly. I'm in awe of the gorgeous rings on here!