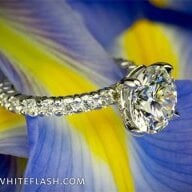 Joined

Jan 30, 2007
Messages

807
Hi,
I am new to PS and was looking into purchasing a princess cut diamond for my e-ring I love the look of them and I thought I was set. I was looking in the range of 1.25-1.50. After reading all the wonderful information I started talking to
WF
about their
ACA
princess cuts and had my heart set on a 1.54 stone then I saw this really nice 2.00 also
ACA
but figured I could up my budget and get it and I thought I was all set.
I decided though that I should not just explore one vendor and I had heard a ton of good stuff about
GOG
so I went to their sight and started reading about Square H&A and there was all this info about how much better they perform in terms of light return and that they leave a princess cuts quite far behind and that they really perform like a lot of the stunning RBs that many of you lovely ladies already have in your e-rings and I got to thinking maybe I should consider these.
I currently attend school so I need to get a diamond that is gorgeous and that I can live with until I can upgrade which will not happen for a while.
So long story short I talked to Tim from
GOG
and he recommended a 2.11 I (he told me it would face up really white) SI1 (totally eyeclean) Square H&A and it is not a significant amount more than the
ACA
princess that I had picked out.
So my question is what should I do????
They look awesome.
The Square H&A is a bit bigger, a bit more expensive,lower in color, and clarity
The
ACA
Princess is very high clarity which I didn''t really want b/c you can''t really see it but that was what they had in stock in terms of the dimensions etc that I wanted, its color is a bit higher and of course it''s a bit cheaper.
There is no chance that I will be able to see either in person I live quite far away and can''t really make a trip to either texas or ny to view them so I am relying on all you nice people to talk me through it a bit and then maybe I can decide for myself.
I want to make the right decision pls help

Anyway I have attached the link to both diamonds for anyone who is interested in having a look.
Thanks so much in advance!

Oh and does anyone know if Square H&As face up smaller than princesses?? I asked Tim he said they are very similar to princesses but would be interested in what anyone else who may have expert knowledge would have to say.
http://www.goodoldgold.com/diamond/1255/





http://www.whiteflash.com/aca_princess/A-Cut-Above-Princess-cut-diamond-78229.htm