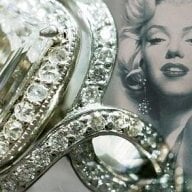 Joined

Jul 2, 2007
Messages

420
Hello!
BF has asked what I want in a ring. Well I know from previously looking that I have three kinds in mind. I will list them below. Two of them I have tried on and absolutely love on my hand. The other I have only seen pictures of. My question is do any of you have rings similar to these and if so could you show pics with the wedding bands? The main one I want to know how it fits with the w. band is the three stone. I don't like the curved bands... I like for them to sit flush with the e. ring. Also, if you were to take elements from each to create one would it look ok and/or how would you suggest doing so?
I'm particularly fond of all three. I really like the knife edge plus pave' of the ArtCarved, Love the burnished stones of the Diana, and adore the oval and half moon combo of the JB Star.
This is the main one I'd like to see with the wedding bands (if anyone has something similar to it) Three stone oval with half moon sides:
JB Star
The
Diana
with burnished sides
The
ArtCarved
(and matching
band
) and they also have
one
that looks similar to the Diana mentioned above.
Thank you all for your help!

ETA: Does anyone have a ring with burnished stones? And further does anyone have them on a knife edge?