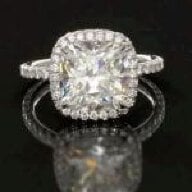 Joined

Jul 25, 2011
Messages

195
We recently bought a cushion that I'd like to get set in a halo setting. I love the look of the HW inspired halos many PSers have shared. However, I am torn between having a single row of pave on the band or 3 rows of pave. I would like the halo and band to be very dainty and delicate, and am worried that 3 rows of pave on the band may look bulky. Can the band still be made very thin (~1.6-1.8 mm) if all 3 side have pave? Also it's important to me that the e-ring is able to fit flush with the wedding band (no donut). So I'm not sure if this may affect how thick the band needs to be.
I've been looking at LM's Barcelona halo ring (r4537) for inspiration. I love the band, but would have a single row of pave on the halo and have the basket be simpler. But I can't tell if how thin the band would be IRL.
http://artofplatinum.com/vault/inde...&category_id=3&option=com_virtuemart&Itemid=1
Anyone else debating over single row or 3 rows of pave on the band? Does anyone have a 3 row pave band? How thin is your band? Pictures always welcome!
Thanks for any thoughts/advice!