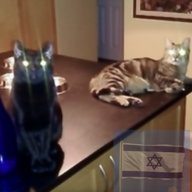 Joined

Jun 8, 2008
Messages

28,702
It probably also has to do with the guilt of knowing something others don't.

Being around people with strange situations (eloping on a hike, getting a gay marriage secretly, etc.), I am okay with most things. The only time I got offended was when a couple went through the wedding and celebration, only to reveal later they broke up before the "celebration."
You know what (mildly)irked me at the time it happened? Greg's friend got engaged and had a party and we gave him an engagement gift. Then he got married and of course we gave him a wedding gift. Then he got divorced in a few months and we were sad for him. He got engaged again less than a year later and had another engagement party and we got him another engagement gift. A few days (one day?) later they broke up and we never got the gifts back. What is etiquette regarding that I wonder. We didn't think about it either way at the time. However Greg and I were engaged at that time and we got married less than a year later (we never had a formal engagement party or shower but that's a personal decision as I did not want gifts for the same reason multiple times if you kwim) and this same fellow RSVPd to our wedding that he was coming and then 1. didn't show up and 2. never gave us a gift.

Laughing about it because this was exactly what I would expect from C G who was not someone with good judgment and was someone the world revolved around. Just ask him.
Conceited and narcissistic would be an understatement.
Sorry for the thread jack but different strokes for different folks. And in the end it really doesn't matter.
What matters is our own personal life and business and what others do isn't my business (unless it affects me in a real way) and what others think of me is also not my business. It's a lot easier to enjoy life if you remember these 2 general principles. IMO.