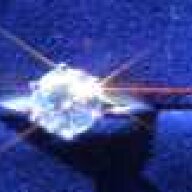 Joined

Apr 3, 2003
Messages

17
Well this is the diamond I ended up getting. Let me know what you guys think of it. I ran the numbers though the HCA and I got a score of 1. I have the Crown angle but I only have the pavillion depth and not the angle and am not sure how reliable the HCA score is. Is there a way to figure out the angle if I have all the other measurements? Here go the stats on it:
.94 ct VVS1 H
6.30-6.32 X 3.90
Depth-61.8%
Table-55%
Culet-None
Crown angle-35.0 degrees
Pavillion depth-42.9%
Girdle thickness-medium
Polish and symmetry-Very Good
Fluorescence-none
Tell me what you guys think. Thanks again for all of the advice everyone has given me recently. I will try to take some pictures to post of it today sometime. If anyone would like to post an
idealscope
image that would be greatly appreciated also.
Mike