Hi All,
Thoughts on this 2 carat Oval? I'm mainly worried about the bowtie and the strong fluorescence. I am planning on setting it on a solitaire setting to propose to my longtime girlfriend.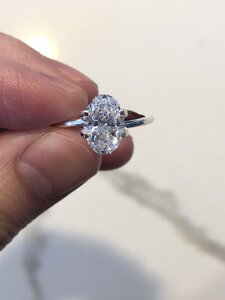 (indoor lighting)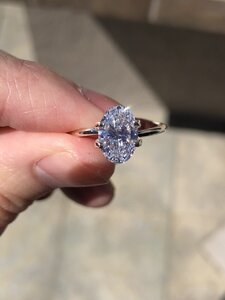 (outdoor lighting)
Videos
Indoor Lighting:
| | |
| --- | --- |
| Color | E |
| Clarity | VS2 |
| Depth | 63.2% |
| Table | 58% |
| Fluorescence | Strong Blue |
Bowtie
When I first received the stone, I didn't notice the bowtie effect. However, the more I look at the stone, the more the dead area (across the belly) becomes noticeable to me. Am I seeing things and nitpicking at this point?
Fluorescence
I, personally, am indifferent about the fluorescent effect but I am unsure about her feeling towards it. For those that chose a fluorescent engagement ring center stone, how does your significant other like it?
Thank you in advance!!