Joined

Aug 24, 2020
Messages

17
Hey all!
I was recently engaged on the 30th! My newly minted fiancé and I were hoping for some opinions/advice on the stone (mostly him as he knows how much I value pricesope's opinion). He'd like to know if he did a good job. He felt this one was the one in his heart and picked it on sight vs specs. He said it sparkled gorgeously in the store and outside. He knows I'm more numbers oriented so requested I posted here LOL.
I personally think my stone is beautiful. I was surprised that it was a L (we were looking at K minimum) but I honestly thought it was a J when I first saw it because I'm no expert. According to him, the color was not discernible from the K we looked at together (and liked). So no biggie! I also quite like warmer stones.
Two concerns I had were a) Is there a bow tie, and is the length by width suitable for its weight?
here are the specs:
OVAL BRILLIANT​
| | |
| --- | --- |
| Measurements | 9.11 x 6.63 x 4.21 mm |
| Carat Weight | 1.7 carat |
| Color Grade | L |
| Clarity Grade | SI1 |
PROPORTIONS​
| | |
| --- | --- |
| Depth | 63.5% |
| Table | 61% |
| Girdle | Medium to Thick, Faceted |
| Culet | None |
| | IMAGES.GIA.EDU |
FINISH​
| | |
| --- | --- |
| Polish | Excellent |
| Symmetry | Excellent |
FLUORESCENCE​
CLARITY CHARACTERISTICS​
| | |
| --- | --- |
| Clarity Characteristics | Crystal, Feather |
I had inputted the specs into a website and it said that the face up size was more suitable for a 1.6. I think some of this is lost in the depth at 63.5%. I'm curious to know if this is normal/ adequate. I'm very happy with the size of it means that the stone is cut well. Which leads me to my next question...
What are your thoughts on the bow tie? I know nearly every fancy cut has a bowtie. In several lighting conditions, I can hardly see it and it's faint. It's only in direct phone flash it seems to show up badly (as in dark color & size) but reading other threads has lead me to possibly believe it's a reflection of the phone back . In direct sunlight, it has moderate bow tie (in color). I've attached videos & pics in varied lightings. Regardless, it does sparkle beautifully in all lightings with or without bowtie IMO. I think he did a great job but he'd love your expert opinion
https://streamable.com/sc058e
(Direct sunlight)
https://streamable.com/27oknp
(Car lighting)
https://streamable.com/kixhoj
(Grocery Store)
https://streamable.com/60h8if
(Direct Lamp Light)
Please excuse the obnoxious amount of media. I really wanted to give an accurate idea of what the ring looks like in person without being able to see it.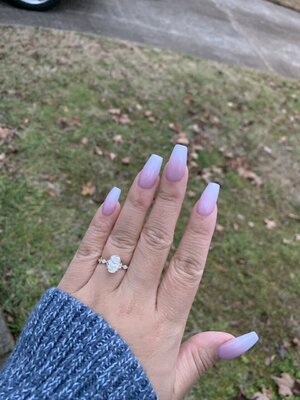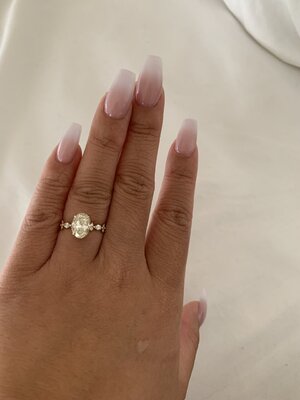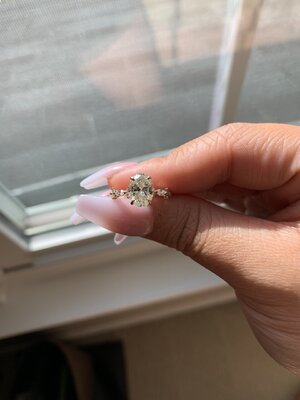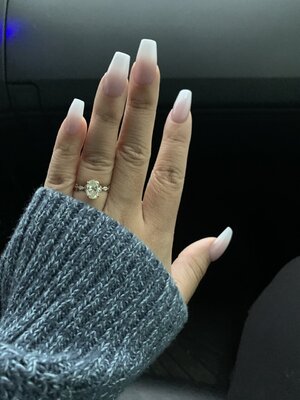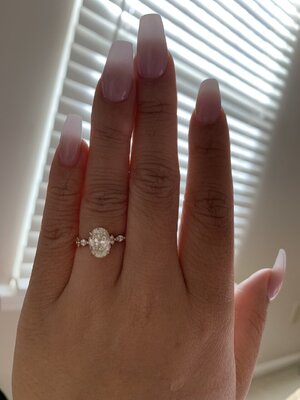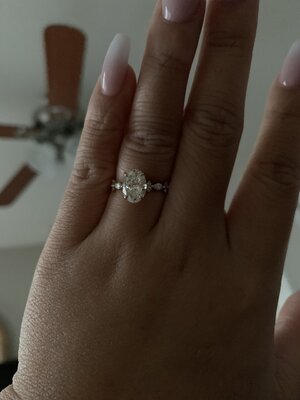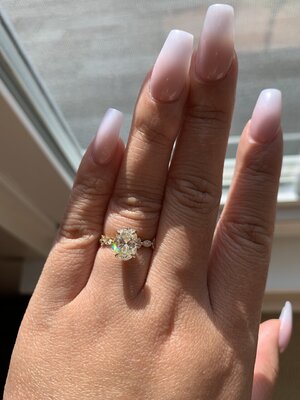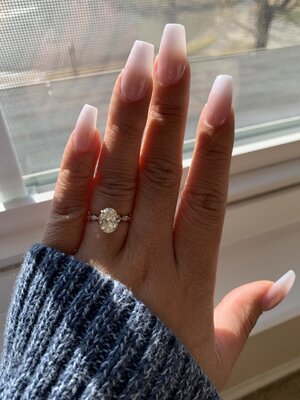 Thank you all dearly! Your help is appreciated!
Last edited: